1973 Halvorsen 42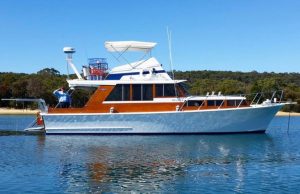 This 1973 Halvorsen was built in Sydney in 1973 but now calls the Royal Queensland Yacht Squadron home.
This Halvorsen was originally powered by twin V8 Cummins V504M that weighed in at over a ton each. The Cummins V504M rated 190hp at 3000rpm.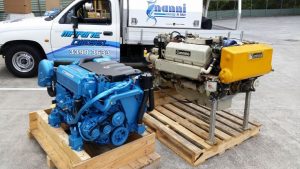 The new Nanni engines that replaced them are T4.230 models that are rated at 230hp at 3600rpm. Based on the Toyota 4 cylinder turbocharged engine, each unit weighs just 350kg and the repowering was carried out utilising the same reduction transmissions which meant the propellers and shafts remained unchanged. The initial sea trial, with a dirty bottom, gave 17.6 knots at full throttle.
Our Nanni dealer in Queensland, Marine Diesel, also supplied and installed a new Nanni QMS7.5 generator.
The entire engine room was stripped and repainted, all support systems such as exhaust, controls, hot water service etc, were replaced, and much of the wiring system and electronics were replaced and upgraded.
The end result is a beautiful boat with a new lease of life!